Three hundred patients.
Dr. Soon will say she is becoming desensitized to that number. As the director of intake at a psychotherapy clinic in Forest Hills, Queens, every day is numbers–goals and targets–trying to connect people seeking mental health care to therapists as quickly as possible. But the reality is that she has 300 patients waiting for therapy.
Among the waiting are people grieving family members lost to COVID, new mothers seeking care for postpartum depression, and children struggling with social anxiety after a year of remote school.
"My staff really struggles with taking phone calls every day and admitting people to the clinic, telling them, 'You might have to wait eight to 10 weeks for treatment,'" said Soon in an interview from her home office. "Because, as we know if you're experiencing a crisis right now, like eight to ten weeks you could be dead."
Two-thirds of those waiting on Bleuler Psychotherapy Center's waitlist are patients whose therapists have resigned for a variety of reasons – like burn out or seeking higher pay. In fact, just recently several therapists with after-school availability left, forcing the center to effectively stop taking on new child patients.
Child and adolescent therapy appointments are more precious these days than ever before, a reflection of an exacerbating mental health crisis among kids that doctors have been warning about as soon as schools were shut down and many families lost their source of income. While pediatric mental health had been worsening for a decade, last summer researchers found that anxiety and depression in children had doubled since the pandemic. To make matters worse, because of lockdowns, kids across the country weren't getting screened for anxiety and depression by their primary care doctors at annual check ups, or spotted by teachers at schools. Finally, this past October, the medical community declared child and adolescent mental health a national emergency.
While New York State has recently increased funding to expand care for kids, providers and mental health advocates say the effort is too late. The crisis has been long in the making, involving years of providers being paid too little and burning out.
A recent survey of more than 170 child and adolescent outpatient mental health clinics in New York City, shows that clinics in every borough, like Bleuler Psychotherapy Center, are struggling to keep up with demand. Findings indicate that if a parent wants to find therapy for their child, they might have to wait close to two months to get established with a provider at an outpatient clinic.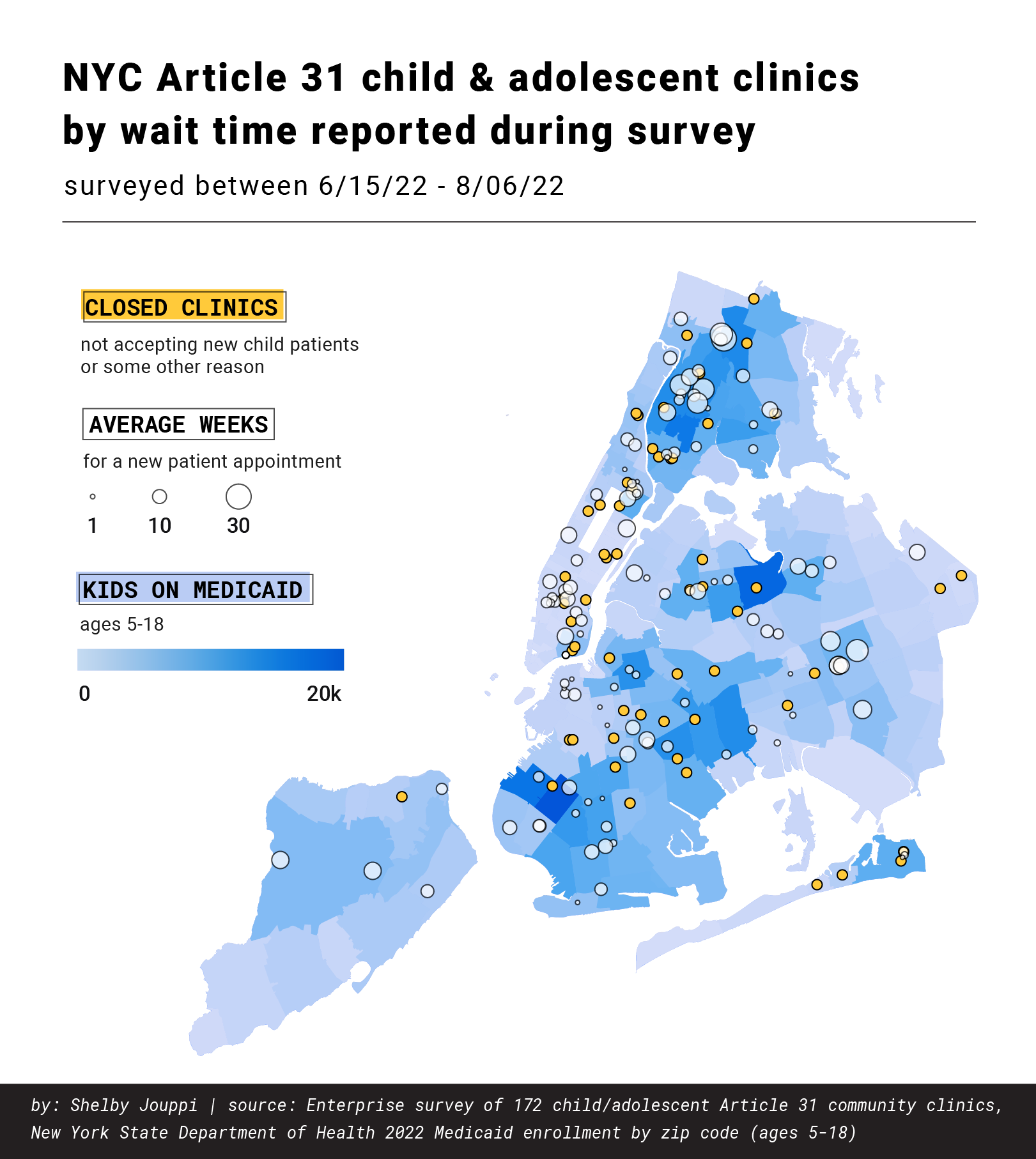 What is an Article 31 clinic?
The survey was conducted of Article 31 clinics in New York City. Article 31 clinics are outpatient behavioral health facilities licensed by the state Office of Mental Health. Together, they make up the largest mental health program in New York with hundreds of clinics statewide. In New York City, more than half of the Article 31 child and adolescent clinics are school-based, dedicated to serve the needs of students who attend those schools. The rest can be found in free-standing clinics around the city.
These agencies are an important resource for people insured by Medicaid, partially because not many mental health providers work with insurance, and most Article 31 clinics do.
"The vast majority of people coming in their doors are going to be Medicaid patients," said Alice Bufkin, Associate Executive Director for Policy and Advocacy at Citizens' Committee for Children. Butfkin has been advocating for increasing access to mental health care for children.
It might be possible for someone with commercial insurance to see an out-of-network provider, such as a child psychologist. Depending on the individual's benefits, they could pay cash and ask their insurance company for a reimbursement. But those insured by Medicaid must find someone in network with their plan. Article 31 clinics make up a large portion of this network.
"These findings provide the data to underscore the experiences of providers, parents, and advocates across the state: There is a deep lack of adequate clinical capacity to meet the behavioral health needs of children in New York," said Bufkin in an email, referring to the findings of the survey. "Both the city and State must take urgent action to ensure families are able to access the care they need and children are not stuck waiting weeks or months for the care they need today."
Researchers at Citizens Committee for Children compiled a well-being risk index for New York City Community Districts. When factoring in several determinants like economic security, housing access and health, South and Central Bronx scored as being highest risk.
In the survey of Article 31 clinics, Bronx locations contacted also had some of the longest wait times in the city.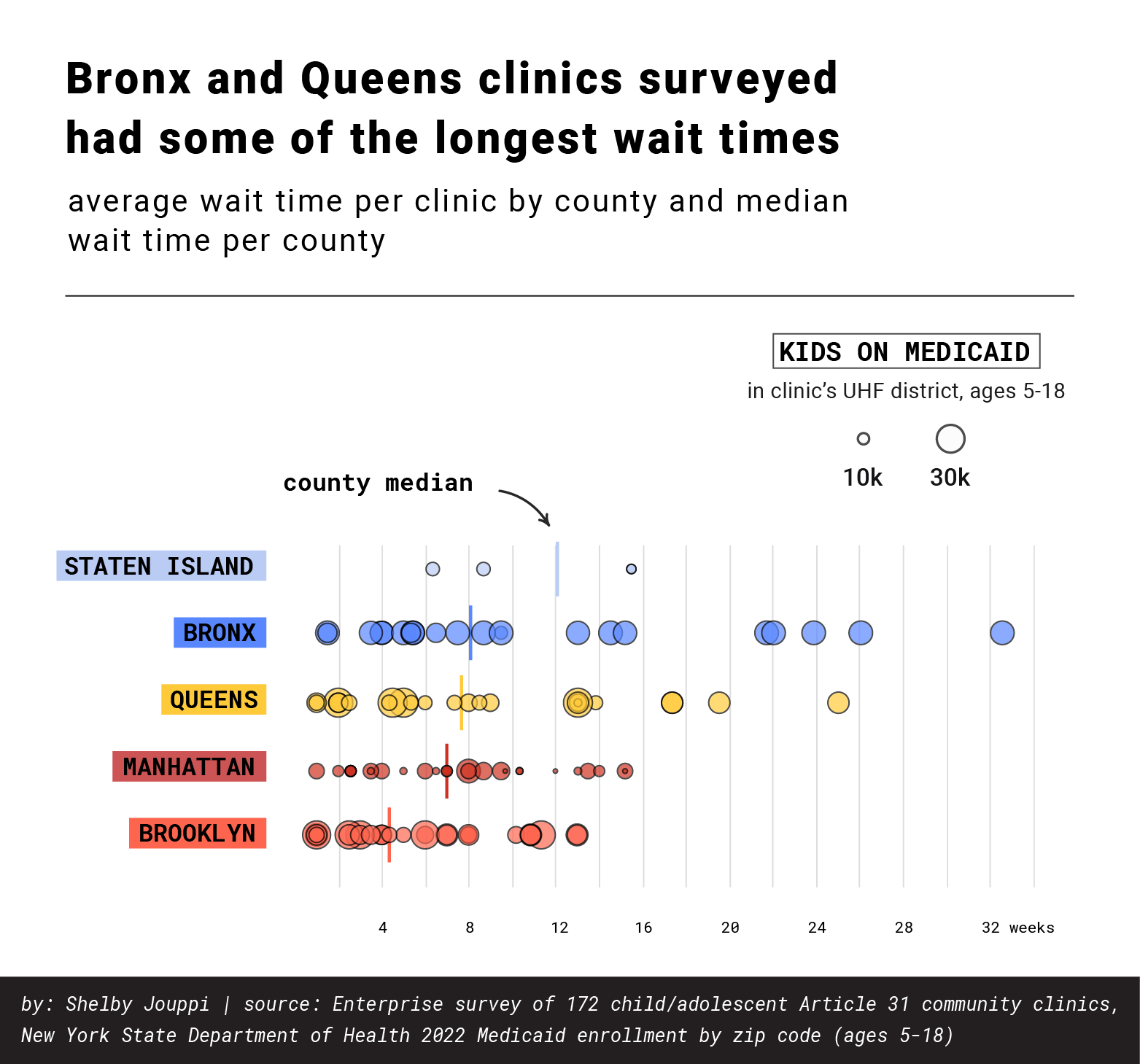 A community health center in West Bronx had more children on their waitlist than adults, with families waiting since November of last year. A clinic representative said they were hoping to bring on new therapists later in the year.
Montefiore Medical Center has six mental health clinics in the Bronx that work with either children or adolescents or both. Three clinics reported wait times ranging from five to eight months for care. That means a patient calling today likely wouldn't be seen until early 2023. For a child, that's missing needed therapy for more than half of the school year. One of those locations was not accepting new patients and was not putting people on a waitlist, and the remaining two clinics had wait times of two to four months.
About a third of the clinics surveyed in the Bronx 11 of 32 were closed or not accepting new patients. Many locations cited being significantly understaffed. For example, a representative of Lincoln Hospital's child and adolescent mental health center reported in June having just one attending physician for the entire clinic and being closed to new patients until the end of the summer. A receptionist at VIP Wellness Center, a community health center in East Tremont, said the clinic had one pediatric provider who was available two days a month. The intake coordinator said a child who fit their program could be seen within a few weeks.
Citywide, one third of the clinics surveyed, 59 in total, were either not accepting new patients, weren't working with children or adolescents, or in a couple of instances, had closed altogether.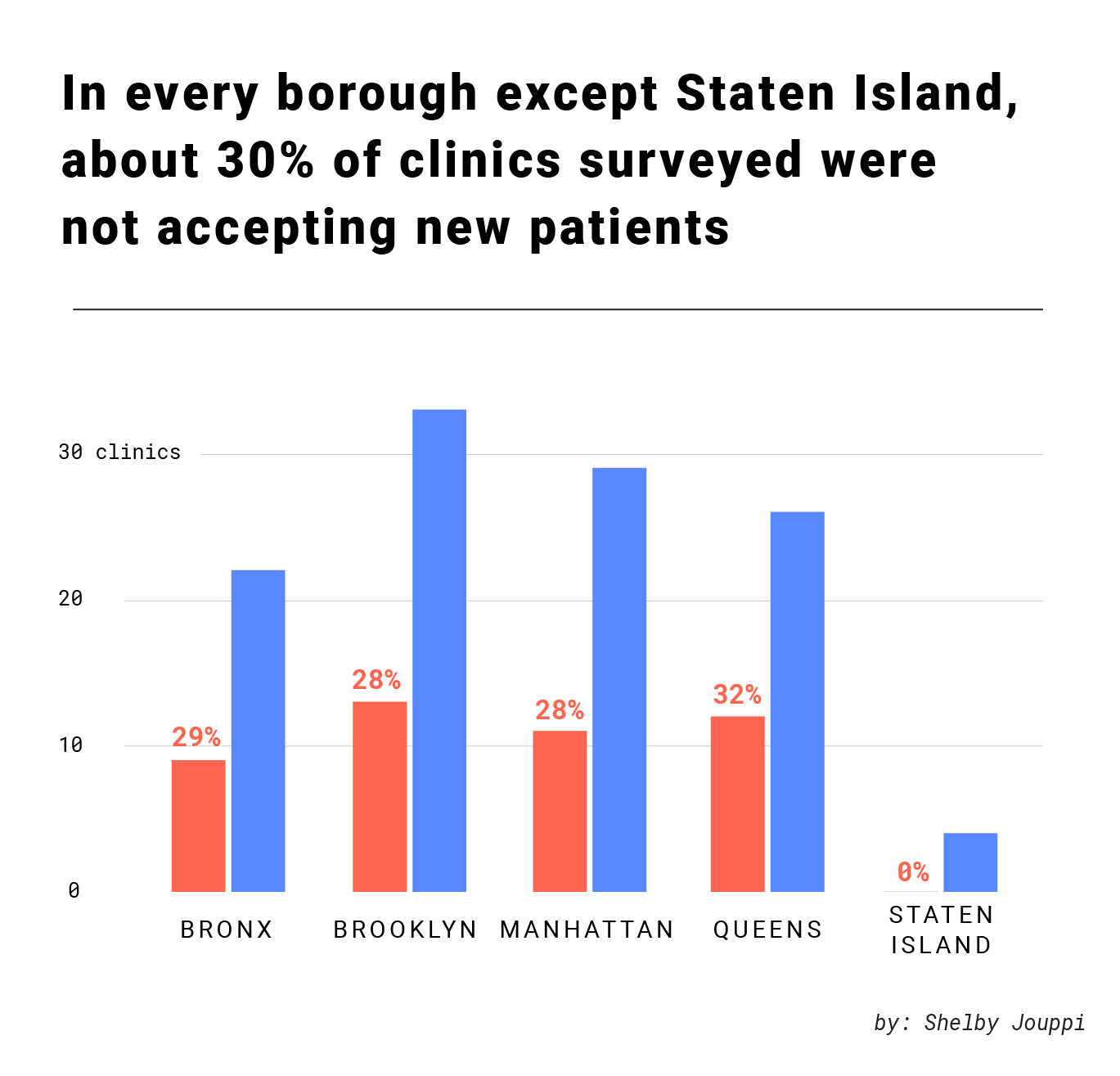 "Call back in a few weeks," said many clinic representatives.
"Call back next month."
"Call back in October."
At least seven of these were hospital clinics with programs specializing in child and adolescent psychiatry,including New York Presbyterian Weill Cornell, St. Barnabas, Brookdale and NYC Health and Hospitals-Bellevue and Lincoln.
Several NYC Health and Hospitals locations couldn't be reached at all after multiple attempts. While the hospital press office did not respond to requests for wait times, it stated that demand for child and adolescent mental health services increased 50 percent and remained high.
"No one wants to work in this field"
"This data unfortunately bears out what we have been hearing from providers for months – that as the need for mental health services increased, providers struggled to expand or maintain services due to a massive workforce shortage," said Nadia Chait, the policy and advocacy director for The Coalition for Behavioral Health, a group representing more than 100 nonprofit behavioral health agencies in the New York City area. Many of the coalition's members are Article 31 clinics, and Bleuler Psychotherapy Center is one of them.
Bleuler just received two grants from the Office of Mental Health to bolster their services to kids – one for rapid access for those coming out of hospitalization for a psychiatric emergency, and the other for an intensive outpatient program for teenagers. Even with the additional funds, it's a challenge to expand.
"That's great that we got these grants, but we don't have the staff to implement this kind of programming," said Soon. The center has been losing staff to more remote-friendly jobs or companies that could offer much higher salaries, and Soon said it has been difficult to fill the vacancies.
"We've had ads out on Indeed and LinkedIn and all these other places and no one is applying," she said. "It just seems as though people just don't want to work in this field anymore."
Before the pandemic, the Mental Health Association of New York State surveyed behavioral health agencies across the state and found that an average staff turnover rate of roughly 40 percent, more than double what hospitals were reporting for medical staff.
"We're all burnt out right after the last two years, but if your job has been helping everyone else process their trauma and process their grief, process their loss at the same time that you're experiencing those things yourself, that's just incredibly challenging," said Chait.
In a 2018 survey of 2,000 psychiatrists across North America, three out of every four respondents reported symptoms that indicated high levels of burnout. Researchers found that women and younger clinicians were more at risk for burnout. Lack of control over schedule and work in community, government and inpatient settings also increased a psychiatrist's risk of burnout.
This aligns with what the Coalition for Behavioral Health has observed of its more than 100 mostly community-based agencies. Chait stated in a testimony to the New York State Assembly that lack of childcare during the pandemic caused many women clinicians to leave the workforce. For-profit mental health companies and hospitals were offering salaries that far outpaced anything community clinics could offer, she said.
"If you're a social worker or a mental health counselor and someone offers you a job for $40,000 more per year, you're probably going to sign up for it," said Chait. Later in an email, she added that in order to fix this problem, city and state officials needed to act quickly.
"We need more funding to pay competitive wages, robust tuition assistance and loan forgiveness programs, and flexibility on regulatory requirements to provide fast and high-quality care," wrote Chait. "We cannot wait to fix this problem, when youth mental health concerns are surging."
Neither the state's Office of Mental Health nor the city's Department of Health and Mental Hygiene provided a response to the survey's findings.
It's a money issue
In addition to salaried positions, many providers work for themselves and either set their own rates or work as "fee-for-service" therapists.
Barbara Kapetanakes, the president of the New York Psychological Association, says reimbursement rates – how much an insurer will pay them for a session of therapy -- play a large role in whether psychologists choose to work with Medicaid or commercial plans. In New York, for example, Medicaid reimbursement rates hang at about $76, Kapetanakes says that is barely enough to cover expenses. Psychologists can charge much more for a 45-minute session of therapy if they set their own rates, she said, and there is little incentive to take a pay cut and enroll as a Medicaid provider.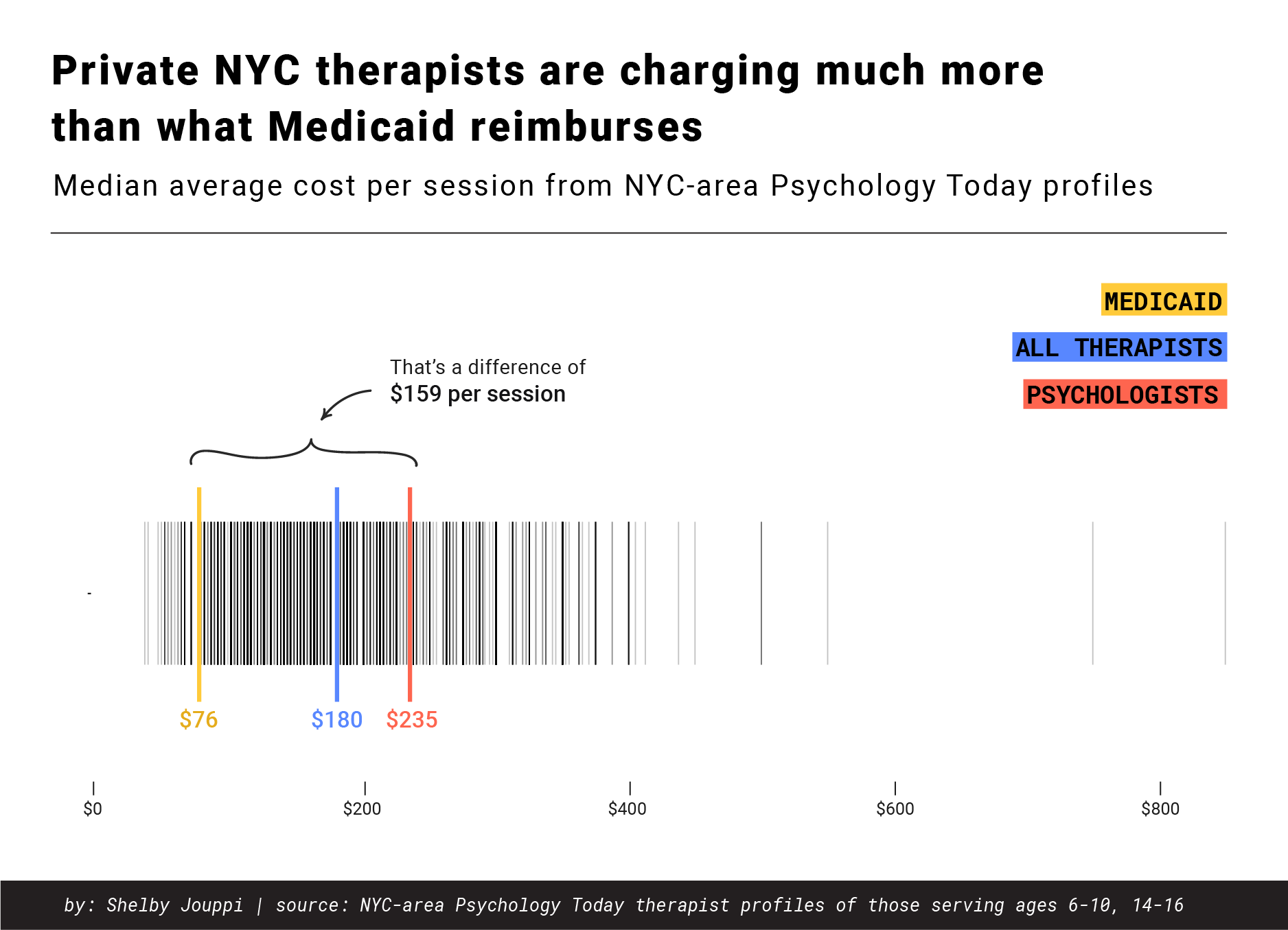 An analysis of close to 5,000 New York City-area therapist profiles from PsychologyToday.com shows that the cash market rate for therapy is significantly higher than what commercial insurance reimburses. Of the therapists that included "Cost per Session," in their profiles, the median average cost was $180. For psychologists, that number was closer to $235. Experts say, commercial insurance plans and sometimes Medicaid Managed Care plans try to reimburse even lower than the Medicaid standard – around $50 per session.
Fewer than two percent of provider profiles analyzed mentioned Medicaid in the finance section of their listing.
New building, same problem
444 Butterfly Drive. It sounds like the destination in a fairytale. In some ways, it is.
444 Butterfly Drive is the address of one of the nation's largest pediatric behavioral health centers. It's 386,000 square feet and nine stories – the size of a hospital – has a gym, a pool, courtyards and a sanctuary.
The center has two floors dedicated to inpatient psychiatric beds, another for a crisis stabilization unit, and a robust outpatient therapy program. Yet this brand-new, $50-million-dollar oasis of mental health in Cleveland, Ohio has just 2.5 stars on Google. Why? One reason many parents are citing: the wait time.
"We opened up the largest Behavioral Health Center attached to a children's hospital campus in the country and we cannot meet the demand– even us," said John Ackerman, a child psychologist and the Suicide Prevention Coordinator for Nationwide Children's Hospital. "So we probably have more resources than nearly any other community or children's hospital in the country and we still have the same wait lists as everywhere."
Ackerman said he is glad that in many cases the stigma around mental health care is decreasing, and people are realizing how crucial behavioral health care is.
"We've got more awareness now, but we don't have the infrastructure—Medicaid certainly does not have the infrastructure at this point—to really understand how we're going to make it work."
As a suicide risk researcher, Ackerman spends a lot of time thinking about how to reach more children and teenagers who might need mental health intervention. He said that it can be many years before a kid who thinks about suicide or is depressed actually gets any support, and that often parents don't even realize that their child is struggling with suicidality.
Because of this, he and others in the field say that behavioral health centers are not the only solution. Ackerman said that it is important for communities to build mental health care into the places where children are the most – like faith-based institutions, clubs, and schools. With training, these places can learn to identify young people who are at risk for anxiety and depression, help treat them, or refer them to the right person.
"If you broke a bone, it shouldn't be that the only person you can talk to is the emergency room doctor," he said. Pediatricians, nurses and EMTs can diagnose a broken bone. Similarly, people in many different settings can be trained to spot a need for behavioral health care and provide assistance.
New York State Medicaid has been working toward incorporating behavioral health care into primary health care settings, such as annual checkups, for "a very long time," according to Lara Kassel, the coordinator for the Medicaid advocacy group Medicaid Matters. She said that implementing this has been a challenge due to regulations around billing for procedures and licensing.
Searching for options
During the survey, when clinics said they were not accepting new patients, they often recommended other locations. Several representatives recommended NYC Well, a citywide free mental health hotline that residents can call, text or message online to receive crisis counseling, information about services available for their specific situation and referrals to providers.
Prior to the pandemic, NYC Well reported that when someone called the center on behalf of another person, more than half of the time it was a parent calling about their child. Curious about the experience of reaching out to NYC Well for help, I called asking for therapy options for a child. The agent went through a series of questions, assessing symptoms and previous history of mental distress, and I answered them based on my six-year-old son's recent experiences with social anxiety. At the end of the call, the agent provided me with three referrals near my zip code that he said did not appear to have a wait time.
When cross-referenced with the survey, I found that one clinic had a wait time of three to four months, the other was not accepting new patients, and the last I had not been able to reach.
The agent offered to try to get in touch with them while I was one the phone. I declined, for lack of time. The call had taken 30 minutes. He said that if I had any trouble reaching them or getting an appointment, I could call back and NYC Well could escalate my case. They would make a Mobile Crisis Referral, which would request a provider be sent to my house until my child could be seen in a clinic.
New York Mental Health Parity Law, requires insurance companies—including Medicaid Managed Care Organizations —keep providers in their network that patients can "see in a reasonable amount of time at an accessible location." When asked, the Office of Mental Health did not provide a metric for what constitutes a "reasonable amount of time." With many clinics across New York City having wait times of two months or longer or potentially being closed, the pool of options for outpatient mental health care may be much smaller.
Christine Khaikin, the Senior Health Policy Attorney for New York's Legal Action Center which advocates for enforcement of parity law, said that, even given the closures and long wait times, "it's unclear what a patient's recourse would be."
She said that the state's network requirements "are extremely limited and do not necessarily ensure that health plans will create networks of providers that are able to meet the needs of their members. When that includes extremely critical and time sensitive services like mental health care for young people, the lack of standards can have grave consequences."